John Duval Celebrates His 50th Harvest and the 20th anniversary of John Duval Wines with Six-City US Tour
John Duval and son Tim Duval to visit USA to honor these milestones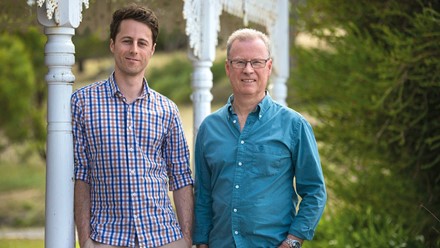 Napa, CA – Old Bridge Cellars is proud to announce an upcoming 6-city US tour to celebrate John Duval of John Duval Wines. This year marks John's 50th consecutive harvest in the Barossa Valley and the 20th anniversary of his eponymous brand. So far, John Duval has celebrated this achievement with events in Australia and Chile. The United States will be the finale on his 2023 world tour, with stops in San Francisco, St. Louis, Dallas, Chicago, Boston and New York this month.
For over 100 years, the Duval family has supplied grapes to South Australia's best winemakers. Knowledge of the vineyard handed down through five generations, combined with a three-decade career at the pinnacle of Australian winemaking, are the foundations of John Duval Wines. In 2003, after nearly 30 years at Penfolds, and being only the third Chief Winemaker responsible for producing Australia's greatest red wine – Penfolds Grange, John Duval embarked on this personal wine project which would allow him to be involved firsthand from the vineyard to the glass and also provide an opportunity to build something for his family.
John Duval Wines began with a single wine, the inaugural 2003 vintage of Plexus. A second wine, Entity, was added in 2004, followed in 2005 by a reserve Shiraz, Eligo, then Plexus white, Annexus Grenache (2013), Annexus Mataro (2016) and Integro. Constantly innovating, new additions to the portfolio are Concilio Grenache, made in a lighter, more approachable style from very old vines and a Compono Cabernet Sauvignon to be released later this year.
Rather than seeking to simply emulate Penfolds, the aim of John Duval Wines is to perpetuate the story of a South Australian wine family through a collection of structured and elegant wines made from fruit grown in the Barossa's exceptional low-yielding, old-vine vineyards, many over 100 years old. In 2016, John's eldest son Tim Duval joined the family business after 7 years practicing law. Together, they craft intense wines as complex and distinctive as the diverse terroir of his treasured Barossa Valley.
About John Duval Wines
John Duval is one of Australia's most highly regarded winemakers. Raised on a South Australian farm with three generations of grape growers before him, his vinous path was fated. His accolades include being named UK Wine and Spirit Competition's International Winemaker of the Year, Red Winemaker of the Year (twice) and receiving Wine Spectator's Wine of the Year award. In 2003, after a long career at Penfolds, John embarked on his own label, John Duval Wines, inspired by the best of the Barossa Valley's low-yielding, old vine vineyards. Now, along with his son Tim and his signature touch, they work side-by-side, crafting a focused range of premium Barossa wines. VIDEO ON JOHN DUVAL >>
About Old Bridge Cellars
Old Bridge Cellars imports, produces and markets wines from a handful of independent wineries in the world's leading wine regions. Our portfolio, while anchored in Australia, boasts 200 different wines from 26 applauded winemaking regions across the globe. We have been the exclusive US importer of John Duval Wines since its inception.