Founded

1988

Owner

The Tolley Family

Winemaker

Kate Goodman

Size

410 acres

Climate

Cool climate; cold & wet winters, long cool ripening season

Key Varietals

Cabernet Sauvignon, Cabernet Franc and Shiraz
Coonawarra, Australia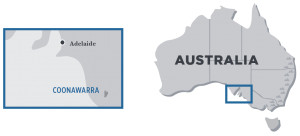 Wines
Project VIII Shiraz Cabernet
Steyning Cabernet Sauvignon
Helios Cabernet Sauvignon
Phoenix Cabernet Sauvignon
Tolmer Cabernet Sauvignon
Don't see what you're looking for? Contact us at marketing@obcwines.com
About
Penley Estate, and from 2023 known simply as Penley in a nod to its fresh look forward, is located in the center of Australia's most famous Cabernet region: Coonawarra. Continuing a family tradition that spans five generations, the winery was established in 1988 when the Tolley children continued the winemaking heritage of their pioneering families, Penfold and Tolley, both storied names in the Australian wine industry. With their reputation established, the family built a state-of-the-art winery in 1995 on the estate property.
In looking back, it was in 1844 that Mary Penfold was the driving force behind the establishment of McGill Estate. Similarly, from 1948-1961, Gladys Penfold Hyland was Penfold's Chairman of the Board. Their descendants, sisters Bec and Ang Tolley, run Penley now, proudly channeling the vim and might of their ancestors. Penley's 240 acres of vineyards are planted atop Coonawarra's "terra rossa" soils with the aim of producing terroir-driven wines with distinctive regional character. After years of acclaim, Penly is now regarded as one of the region's leading Cabernet producers.
Visit Website
Winemaking
Kate Goodman is well established as a respected winemaker, and recently was awarded Winemaker of the Year 2024 by Australia's Halliday Wine Companion. While her 25+ year winemaking tenure grants Goodman a great appreciation for South Australia's diverse wine regions, the wines of Coonawarra continue to inspire her with their unmistakable expression of the region's unique soils.
To achieve this pure regional expression, Goodman makes use of modern technology as well as traditional techniques. Small batches are fermented by site and clone, in a combination of temperature-controlled tanks and French oak barriques. Traditional heading down boards are employed for greater tannin and color extraction, resulting in the region's characteristic fine, dusty tannin profile. Penley Estate's wines offer balance, complexity, minerality and wonderful longevity; but above all else, a tangible encounter with Coonawarra.
Viticulture
Coonawarra is known for its unique terra rossa soils – a thin band of vivid red earth overlaying soft limestone that runs nine miles long by one and a half miles wide. Soils and climate alike are ideal for viticulture: mineral rich and free draining earth meets with cold winters and a long, cool ripening season, allowing the grapes to slowly develop flavor and tannin ripeness. Goodman pursues a water deficit program promoting water stress prior to veraison, followed by sufficient moisture to see the vines continue functioning throughout the late fall harvest. In conjunction with hand pruning, this program ensures balanced vines with healthy canopies and crops of small, intensely flavored berries at yields of around two tons per acre.
Penley's vineyard plantings include Cabernet Sauvignon (164 acres), Shiraz (45 acres), Chardonnay (5 acres), Merlot (20 acres), Pinot Noir (6 acres). Each varietal was planted with a particular site selection in mind i.e. lighter soils for Shiraz and the more traditional terra rossa soils for Cabernet Sauvignon.
Stewardship
In 2023, both vineyard and winery at Penley became certified by Sustainable Winegrowing Australia, with their commitment to growing and making wine in a holistic approach that considers the environmental, social, and economic aspects of the craft. A few of their practices include: technically monitoring water usage and irrigation, working to minimize their carbon footprint, enhancing the natural habitat of their vineyards to encourage biodiversity, mapping and composting soils – using "continuous sward" cover cropping to increase soil organic matter, and tracking and minimizing waste.